Nextuple Prioritizes Customer Success with New Executive Appointment
Abhishek Kalra Named Vice President of Customer SuccessWe are pleased to announce the appointment of Abhishek Kalra, our new Vice President of...
---
---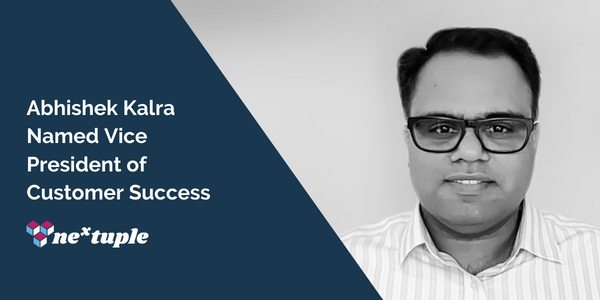 Abhishek Kalra Named Vice President of Customer Success

We are pleased to announce the appointment of Abhishek Kalra, our new Vice President of Customer Success. In this newly created role, Abhishek will be responsible for further strengthening our customer advocacy initiatives, driving successful customer outcomes, and maximizing customer value from the Nextuple Platform, and related applications and services.

Creating this new executive-level position reinforces our commitments to customers and to attracting high-quality team members who are fanatical about our customers and enabling their transformative success.
"Abhishek brings a rare combination of vast experience and expertise in digital and data-driven transformation, omnichannel fulfillment, supply chain, and the customer success function. In this new role, Abhishek will be at the intersection of our offering strategy and the customer for which he is uniquely qualified," said Darpan Seth, CEO at Nextuple. "We are so pleased to have Abhishek join Nextuple at this critical junction as we continue to rapidly expand our Nextuple Omnichannel Platform offerings to meet retailers' needs."

"Retail fulfillment is at an inflection point and customer expectations continue to rise. The Nextuple platform with its microservices architecture and a unique co-development offering empowers retailers to evolve their own Omni fulfillment stack and unlock new capabilities for competitive advantage and brand differentiation," said Abhishek. "The new position at Nextuple is a culmination of the various roles I have played in product, strategy, sales, and consumer experience domains. This brings me great joy as does working with the fantastic team at Nextuple."
Abhishek's expertise includes over 20 years of omnichannel and customer leadership in the retail, supply chain, and logistics businesses, accelerating growth and driving customer success and innovation.
Abhishek joins Nextuple from HCL Technologies, where he held senior positions, including most recently Client Partner and Industry Solutions Expert for HCL's Retail and Consumer Goods business. He also served as Product Offering Leader and Practice Leader for Digital, Omnichannel & eCommerce offerings at HCL Technologies. In addition to that, Abhishek advised and drove Omnichannel transformation for many global retailers in Product Management and Program Management roles. Prior to HCL, Abhishek co-founded supply chain and logistics project management, advisory, and talent management firm ThinkLink Supply Chain Services. Early in his career, he worked with i2 Technologies (now Blue Yonder), implementing advanced Supply and Demand Management solutions with F100 companies globally.
Please join us in welcoming Abhishek to the Nextuple team!