Nextuple Taps Baldev Bishnoi as Vice President of Engineering
---
---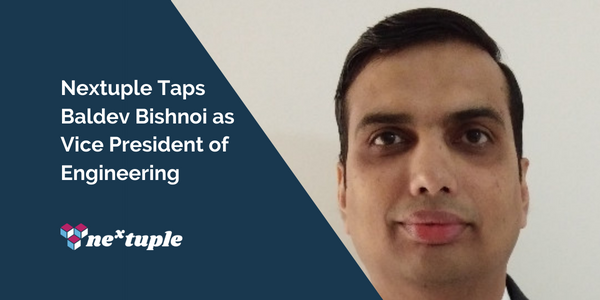 We are excited to announce the appointment of Baldev Bishnoi as Vice President of Engineering. In this role, Baldev will spearhead technology innovation across the design and development of Nextuple's Fulfillment Studio and related microservices offerings.

Baldev is an accomplished leader who brings nearly 20 years of IT experience and extensive supply chain domain knowledge to Nextuple. He has successfully led the development of extraordinarily complex order fulfillment solutions for retailers. Baldev has held high-level technical roles at startups and tech leaders, where he has been lauded for his technical acumen, analytical capabilities, and leadership skills
"Baldev has an impressive history of building high transaction omni fulfillment applications. He also has a wealth of IT and supply chain expertise, which will be paramount as we bring more omni fulfillment microservices to market," said Darpan Seth, CEO at Nextuple. "We are pleased to have Baldev onboard the Nextuple team to guide the development of our digital offerings that allow retailers to deliver on fulfillment promises."
"Retailers must constantly innovate to keep up with consumer's fulfillment demands. With Nextuple's microservices, retailers can build and scale omni fulfillment capabilities with speed and precision," said Baldev. "I am excited to join the team of innovators at Nextuple to deliver retailers the powerful and flexible tools they require."
Before Nextuple, Baldev co-founded e3Next, which Blinkit acquired in 2021 (now a part of Zomato, a leading food service delivery company in India). During his time at Zomato, Baldev designed and built omni fulfillment products capable of handling millions of transactions daily. He has helped companies refine technology strategy and make the right enterprise architecture choices throughout his career. Baldev has been part of other successful startups, including Expicient Inc. and NGPay, and also brings rich experience from working at large companies such as Publicis Sapient & i2 Technologies.
Join us in welcoming Baldev to the Nextuple team!