The Nextuple 3E's
---
---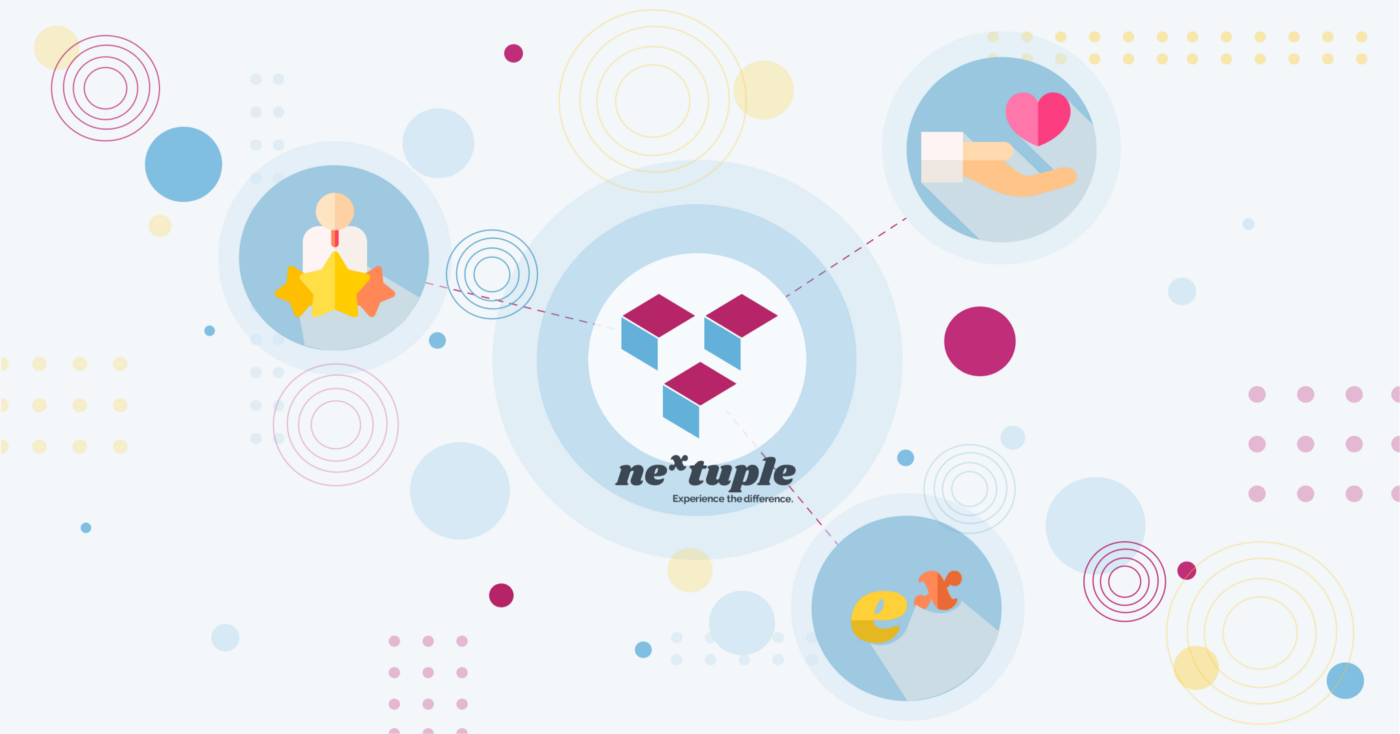 2020 has been an extremely memorable year. Super challenging and yet one of the most rewarding. Human beings everywhere have demonstrated that we can face challenges, rapidly adapt, and are able to persevere.
Having bid goodbye to a landmark year with so much that was unexpected, I'm extremely grateful for the opportunities and successes we've had at Nextuple. Taking stock, here's where we are:
Withover

20 marquee clients

that now work with us, we are well on our way. Our clients really appreciate our work, people, software & services, and the value we bring them in transforming fulfillment operations & systems. We not only relate to them & understand their pain points but also bring them unparalleled innovation and step up when it matters.




Our SaaS platform & engineering teams continued to innovate at a frenetic pace and launched new capabilities like curbside pickup, same-day delivery, and virtual line management for several customers. Our software solutions are active in over

18K locations/stores with over 250K+ customer interactions each day!

This has helped our customers save millions of dollars and reduce cost-to-serve in a big way. If you're curious how we do this — give me a holler via my LinkedIn profile.


Through the year several senior retail technology professionals & talented youngsters joined our global team. Core team & partners include

100+ omni-channel fulfillment experts in over 20 cities around the world.
Existing partnerships got cemented and many new ones got added. We now have over 20 established partnerships for access to specialist skills & expertise.
Since inception, we've experienced fantastic revenue growth and continued to invest heavily in our SaaS offerings and team.
So what's our secret? For any organization to be extremely successful the Vision has to be clear and the team must unite behind this shared purpose. One has to continually add value, challenge status quo, constantly hustle & out-innovate the competition. To build this kind of company one has to have paying customers who need your service, as well as the capital & resources to turn this dream into reality.

Ok so we got all that! But is that it…is that all?

While we experiment and tweak there are a few founding values that are now deep-rooted in our organization and we find ourselves constantly seeking people & partners that demonstrate these tenets. These principles are ones that truly form the bedrock of our culture can be encapsulated as our 3E's. Here they are:

Expertise — Our experience and our expertise in the omni-channel fulfillment space is one of the main reasons why our clients want to hire us. While we have a lot of experience — retail as we know it is going through an upheaval. Customers have come to expect a lot and retailers are responding — rapidly. Metro Fulfillment centers, hub-stores, last-mile delivery providers, curbside-pickup, shopping by appointments are just some of the new ways of reaching out to customers.

Competition can come from anywhere. It is time for us to learn from the past, challenge the present, and come up with newer & radically more effective & efficient ways of doing business. At Nextuple we are always willing to learn new skills, apply the latest technology and are extremely resourceful.

Try new things, fail fast, learn faster —constantly build some new expertise! Expertise is our first growth pillar!

Exponential Value — There's an exponential growth symbol(e^x) right in our name! Each day we build on top of what we already have (sometimes dismantle and build anew too). Our sole focus is to unlock compounding value and grow it for our clients.

In doing that we will let loose our own ambitions to build a rapidly growing and dynamic company. Helping a customer get more revenue while reducing costs, and delivering a fantastic experience — that's our mantra.

And why not do it for ourselves too. Our agility & ingenuity combined with hard work & strategic partnerships allow us to deliver value far greater than anyone else.

Empathy — I say this last, but this is one of our strongest core values. Whether it is stepping into a customer's shoes to understand their problems, a team member that needs help, or a partner that is finding it difficult to deliver on a particular day we need to demonstrate empathy.

It's all about what you make someone feel and what they experience when interacting with you. Empathy is at the core of how we ALWAYS do things at Nextuple. It is what makes us human, allows us to relate and inspires trust in everyone that we work with.

We can only succeed if we work hard at demonstrating empathy!

It's already three years since we started at Nextuple and I've never been more excited than I am now, about what the future has in store for us. A lot can and will change as we evolve as a company. The 3E's above (Expertise, Exponential Value & Empathy) are the ones we must stand behind, at all times. I urge all our colleagues to remind ourselves of these — as we pursue exceptional value for clients, develop ourselves as experts and make decisions that matter.

Looking forward to continuing this incredibly inspiring journey and wishing all our clients, partners, team members & investors a safe, healthy, and successful 2021.

Sincerely,

Darpan