Meet Khushi Shivde, Software Engineer at Nextuple
---
---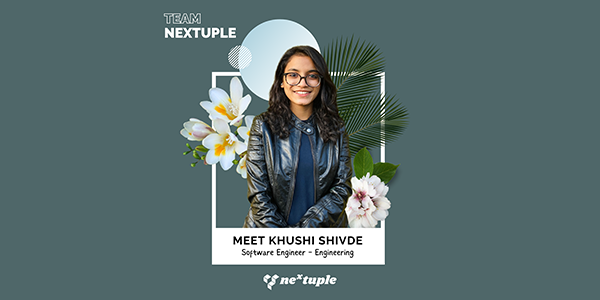 Khushi is leading the UI efforts for one of the key client projects; she effectively collaborates with the UX designer and backend development team to ensure high-quality delivery that meets all business requirements. She is always willing to take up backend development work if needed, and she is a good mentor and team player. She is a cheerful and energetic person.
What do you at Nextuple
As a Software Engineer at Nextuple, I work independently on front-end development, taking complete ownership and ensuring the timely delivery of assigned tasks with high-quality code. I collaborate with the client as the primary contact point to understand their requirements and incorporate new features. Additionally, I contribute to backend development as well. I also mentor new hires, facilitating their onboarding process.
What is exciting about your work?
Every day brings a new challenge. Whether it's working together as a team or tackling complex problems, I have the opportunity to learn, grow and lead, while contributing to making a positive impact.
How is Nextuple helping shape your career or meet your professional goals?
I joined Nextuple as a fresher, and since then, I have experienced significant learning and growth over the past two years. Nextuple has provided me with challenging and exciting tasks that have led to exponential development in my skills and knowledge. The guidance and support from my leads and team members have played an important role in my professional growth. I feel very fortunate to be a part of such a great team and look forward to growing further with Nextuple.
3 Likes, 1 dislike
Likes: Travelling, Photography, Spicy Food. Dislike: Sweets
How do you like to unwind?
Spending time with loved ones, listening to music
What's a quote that you live by?
Believe you can and you're halfway there
#nextuplelife #mystory #dreamteam #bestplacetowork #workwithus #growtogether #joinourteam