Meet Sanjana Shekar, Software Engineer at Nextuple Inc
---
---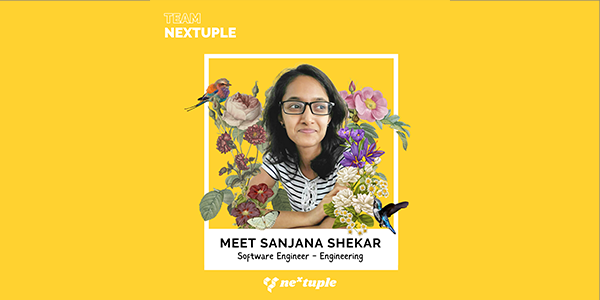 Meet Sanjana... who joined Nextuple as an intern in the development team 2 years back. Apart from the regular development work, she loves collaborating on various initiatives. If there is any big event happening, be it a Friday Fun event or a Hackathon, you can be sure that Sanjana is part of the organizing team. She is also active with NGOs, fulfilling her social responsibilities. Over the last two years, she has already contributed to development, QA, automation, customer demo preparation, and more. Next, she is moving to Product Management shortly.
What do you do at Nextuple?
At Nextuple, I work as a backend developer. My role involves writing high quality code for the amazing products that Nextuple builds towards omnichannel fulfillment. I was also given the opportunity to explore the product management domain where I have been contributing for the past 5 months. Nextuple has offered great support when it comes to my personal interests, such as participating and organizing in-house events like Hackathons and showcase my love for creative design.
What is exciting about your work?
The list is long but 2 things that stand out for me are continuous learning and the Nextuple family. We never stop learning at Nextuple, be it upskilling technical knowledge or worldly knowledge imparted by each individual to another. The kindness and determination that resonates from the entire team motivates me to be a better individual. The entire team works as one unit in achieving milestones together.
How is Nextuple helping shape your career or meet your professional goals?
As a recent graduate taking baby steps into the professional world, overcoming one's fears and looking forward to a good start is very important and the past 2 years that I have spent at Nextuple has been a journey full of learnings and growth. The best thing about being a part of this spectacular team is the opportunities that they provide in exploring our strengths and taking on new challenges.
How do you like to unwind?
Try out digital illustrations with some head-bobbing music playing in the background.
What's your favorite app?
Autodesk, Sketchbook
#NextupleLife #MyStory #success #inspiration #DreamTeam #BestPlaceToWork #innovation #careers #joinus #future #exponentialvalue