Meet Saurabh Vaidya, Associate Director of Delivery at Nextuple
---
---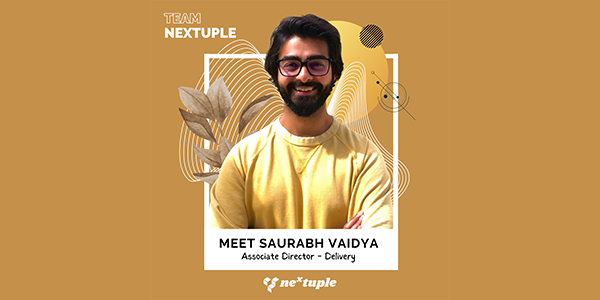 Meet Saurabh Vaidya, Associate Director - Delivery at Nextuple. Saurabh currently leads the Fulfillment POD track for Nextuple's strategic customer and has been instrumental in making this one of our success stories, leading to continued and new business. With his exceptional communication skills, attention to detail and strategic problem solving, Saurabh has enabled us to streamline our delivery processes, minimize disruptions and delight the customer. With his deep understanding of the fulfillment domain and his passion to deliver results, Saurabh is a valuable asset to the organization.
What do you do at Nextuple?
My work here at Nextuple is really exciting! I have taken on multiple roles, right from managing client accounts to leading delivery teams. But what excites me most is the opportunity to build and grow our Canada team. Grow as we go!
What is exciting about your work?
There is never a dull moment at work. Each day brings new challenges and opportunities to learn and grow. The most exciting part is working with our talented Nextuplets who share a common goal i.e. to add value and make a difference no matter what it takes. Innovation is at the heart of all our work and we are not afraid to try out new things, knowing that our leadership has our back.
How is Nextuple helping shape your career or meet your professional goals?
I really appreciate the open conversations I can have with my leadership about my career goals. They are flexible and transparent about the opportunities that come up and are a right fit for me. They also back it up by providing a solid mentor who is always there to help out. Apart from the practical experience, I feel encouraged to learn new things and keep on the edge.
Personal
Favorite Drink - Black coffee
Last Fun thing you did - Backcountry backpacking in the Canadian Rockies
Favorite Weekend Activity - Hiking with my wife and pup
Three likes, one dislike? - Likes - Travelling, Dogs, Photography. Dislike - Winters
How do you like to unwind - Playing cricket and squash
What's a quote that you live by - Live and Let Live
#joinourteam#workwithus#NextupleLife#MyStory#success#inspiration#DreamTeam#BestPlaceToWork