Meet Somya Goel, Software Engineer at Nextuple
---
---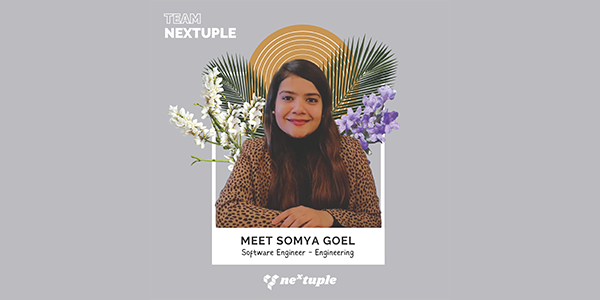 Somya is a key member of Promising Tuple and currently leads the design and development of master data services for promise engine. She is an absolute team player and also one of the most organized team members you will find. You throw any challenge at her, be it related to coding, design, performance issues, or mentoring young folks; she always finds her way to come out on top.
What do you at Nextuple
I have been working with the Engineering Team at Nextuple for about a year and a half. I work as a backend developer, and my role involves building APIs and writing high-quality code for Nextuple products. I have also contributed to the QA and automation testing.
What is exciting about your work?
Each workday is an opportunity to contribute to the company's growth which makes my day! Also, at Nextuple, I learn something new every day, and as the saying goes, "Continuous learning is the key to success."
Being part of a team that is highly motivated and available to help makes me feel more confident and determined.
What was the last fun thing you did?
Recently I went on a desert safari, and it was too much fun!!
3 Likes, 1 dislike
Traveling, desserts, thriller movies. I don't like cooking.
#Nextuplelife #mystory #inspiration #dreamteam #joinourteam #teamplayer #organizedlife#coding #data #softwareengineer