Retail CXOs: Build a High Performance Organization with Microservices
---
---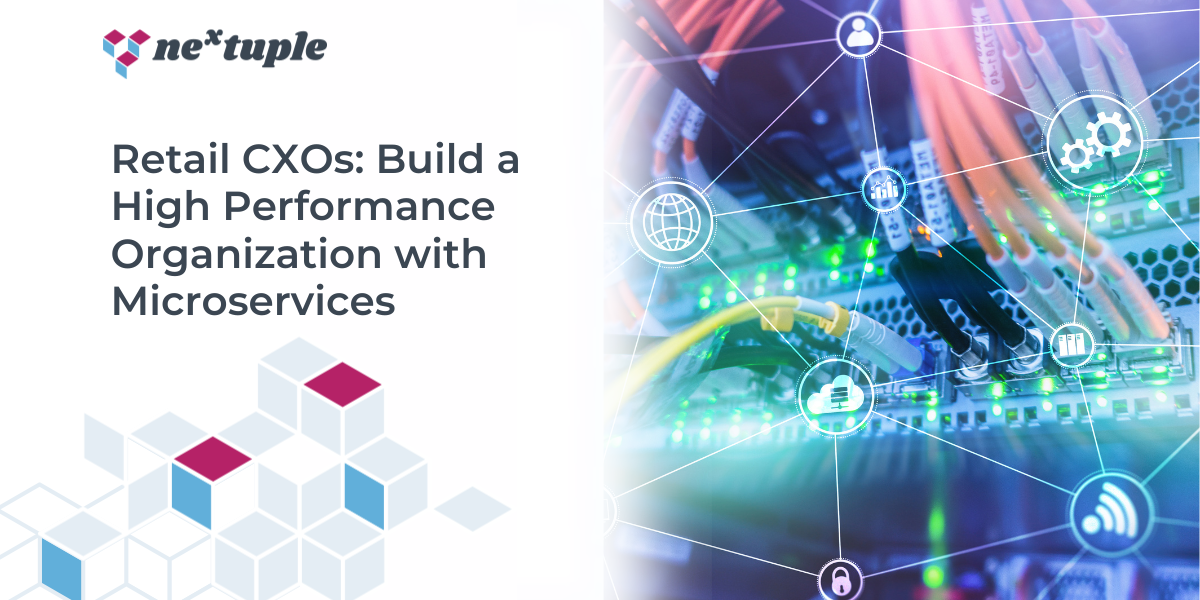 Like companies in every other sector, large retail organizations face the challenge of meeting investors' expectations while managing supply chain issues, rising costs and interest rates, shortages, and consumer confidence. At the same time, consumer buying behavior online has made it more difficult for retailers to capture and keep mindshare. Social selling and search-based buying have made omnichannel a much more challenging game.
These larger trends are impacting CXOs across industries. Research from Boston Consulting Group shows that executives are frustrated. Nearly 75 percent believe their company is implementing cookie-cutter solutions and almost as many worry that their company does not prioritize executing on their digital transformation programs.
The BCG research referenced above discusses growth – and the attributes that make companies poised to win as technology upends traditional markets. Established players who lag behind in investing in new technologies will not be positioned for sustainable growth.
Meanwhile, companies that are smart, strategic, and willing to invest in new technologies can break away from the pack. The secret is in investing not only in technology – but in the processes and people to make those technologies truly transformational. It isn't enough to just invest in your tech stack – companies must also be willing to use those technologies to fundamentally change the way they operate.
For innovative retail CXOs, microservices provide a path to quickly and effectively embracing this change model. We've talked before about the ways microservices can transform legacy OMS into an agile business tool.
Agile Tech Stack Builds High Performing Companies
Increasingly, retailers who are successful in navigating the changing nature of the industry are finding that they must modernize their tech stacks. Composable commerce provides the ability to quickly evolve both front- and back-end operations. In the last three years, the back-end, specifically fulfillment, has seen great disruption, driven by changing consumer expectations. As a result, retailers are looking for solutions that make their Order Management Systems (OMS) more nimble and responsive.
In this way, they can respond quickly to changes in consumer behavior or market trends without compromising customer experience. Additionally, a product-oriented OMS lets retailers focus on exception-based management to quickly identify and resolve issues with the potential to result in broken service promises or a lackluster customer experience.
A future-proof OMS must be flexible – consumers will stick with retail brands that give them multiple options and meet their specific needs. To perform at that level, the retailer's tech stack needs to work seamlessly. Core order orchestration should stand on its own, while supplementary order management functions — designed as individual services and loosely coupled — facilitate a seamless experience. Remember, it's not about the product; it's about the journey.
Why Microservices?
Offering an omnichannel experience has become table stakes for large, national retailers. And the ability to offer this level of flexibility continues to drive the industry. Retailers continue to shift toward leveraging local inventory to meet customer needs, and automation will be a big part of continuing to evolve these capabilities.
At the same time, sustainability continues to be an important driver for consumers and retailers. This will involve rethinking last-mile strategies – and will likely result in new methods and models that don't even exist today. Microservices will allow retailers to future-proof their systems, and deliver the flexibility required to create and execute these new models.
The ability to quickly design and deploy new applications using cloud-native apps will allow retailers to navigate the ever-evolving demands of consumers and adjust their omnichannel fulfillment strategies to meet them. These capabilities will make the difference for companies, allowing them to adapt, and perform at a high level.
Built for the Future
Scale on its own is no longer enough to maintain competitive advantage in the retail space. CXOs building high performance organizations must invest in superior capabilities – this includes technology, people, and a willingness to completely innovate and change the way the company does business.
While this may seem like a heavy lift at first, the competitive advantage brought about by this approach is more enduring and powerful, helping these companies to perform at a high level for the long-term.
Microservices are key to helping retailers build a high performance organization because they offer an especially attractive path – they can be deployed alongside existing capabilities, providing an effective bridge to digital transformation, and can be deployed quickly. And they can help to drive cultural change as the company gains the capabilities to innovate, adapt, and reinvent the way they do business in response to changing consumer demands.
Want to learn more about how microservices can help you build a high-performing organization? Speak with an Agile OMS expert today.